At
The
Door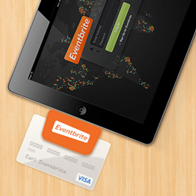 At The Door was the world's first mobile box office app, developed at Eventbrite to extend their reach beyond online ticketing and into on-site sales (effectively doubling market opportunity).
I was hired to build a "box office" product, with no more definition. I sized up the market opportunity, traveled to numerous venues and events to see current solutions (from antiquated box office technology to untracked cash only sales), and worked closely with the head of engineering on our decision to build for the (new at the time) iPad.
Given our choice of new technology, we had to contract with a third party to develop a credit card reader that was more robust and reliable than Square's (we sought to process several hundred transactions per hour, whereas the busiest Square merchants processed a couple dozen an hour). We also reverse engineered receipt printer drivers to make them wirelessly compatible with the iPad, allowing for inexpensive & scannable printed tickets (reducing cost to organizers by over 10x).
The iPad app gave our organizers (who rarely own their own venue, and are often in unconventional venues) unprecedented mobility, customer data, and, for many of them, additional revenue from being able to take credit cards for the first time. We processed over $100k in transaction volume over a couple hours in our first alpha test event and never looked back.
At The Door is now significantly more robust, and was recently rebranded as Neon.
Download it here
.
Back
|
Next: Amazepack